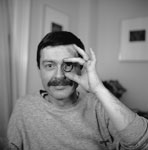 I was born in 1954, in Lancaster, Pennsylvania and grew up in northern Chester County, Pennsylvania. I used to draw to entertain myself, illustrating stories as I made them up, and at the age of eight my father decided I should take "art lessons."
When I was eighteen my goal was to paint like Andrew Wyeth and get onto the "Watercolor Page" of American Artist Magazine. That was Chester County: everyone around me painted barns and gray-skied landscapes except that where Wyeth would have Carl Kuerner's empty plate the imitators would put a bunch of daises. In those days the highest compliment someone could pay to a painting was to say it looked just like a photograph. I don't know that I traveled in the most sophisticated of circles, but it's an obvious segue:
I remember always looking at the photos in Life magazine, especially the annual photography issue. When I was about nine or ten my parents bought me a Brownie Hawkeye camera and I made my first art photo, of raindrops falling in a puddle. I began photographing seriously as an undergraduate painting major; by the end of my college career I photographed exclusively. Deciding the genteel poverty of a minimum-wage security job was less glamorous than it looked, I trucked off to Rochester, New York for a masters in photography. I have a BFA in Painting from Kutztown University and an MFA in Photography from Rochester Institute of Technology. Currently I live with my family outside of Philadelphia and teach photography at The Art Institute of Philadelphia.